The History
Most teams would coast after a Super Bowl win, but we know the Patriots aren't most teams. Bill Belichick saw an opportunity to get an elite receiver at a fair price and took it. No one is better than he at avoiding complacency after success.
Unlike the parade-having Pats, the Saints hadn't tasted playoff football in years. Three consecutive 7-9 records were the impetus for once again trading away Drew Brees' top target.
On the two-year anniversary of the Jimmy Graham trade, Cooks got the boot. Back-to-back 1,100-yard seasons weren't enough to convince management of his importance, apparently. Instead, the Saints opted to roll with Michael Thomas, whom had already begun to challenge Cooks for alpha status as a rookie, as their top receiver.
New England Post Trade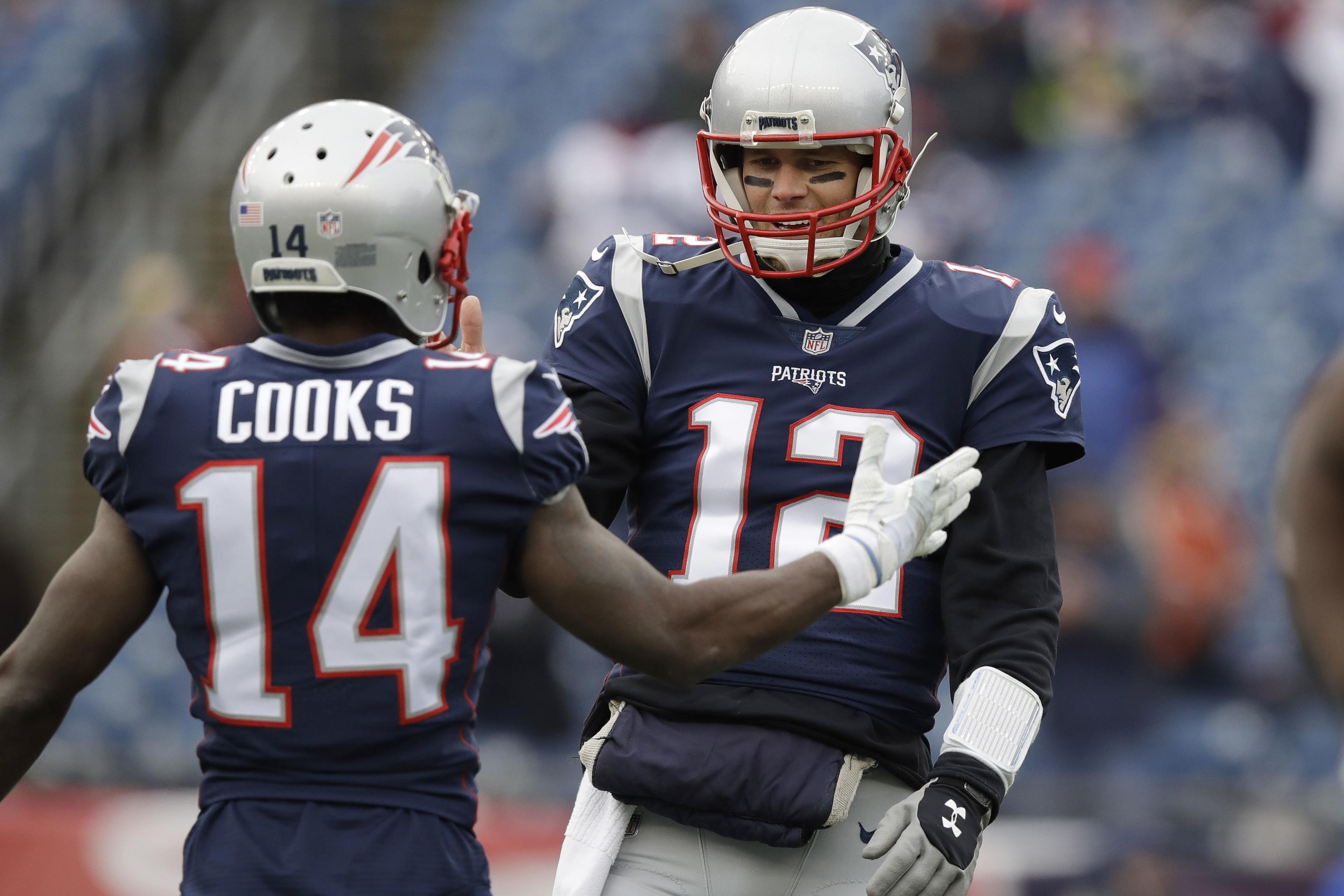 Cooks' time in New England was pretty status quo for both the player and team. He finished 18 yards shy of a third straight 1,100-yard season as the Patriots returned to the Super Bowl, albeit in a losing effort this time around. Had Cooks not gotten knocked out by Malcolm Jenkins in the big game, New England might have gotten title number six a year early.
That injury-plagued Super Bowl turned out to be Cooks' last game with the Patriots. That offseason, he was traded for the second time in as many years. This offseason, he was moved again.
It isn't the greatest legacy to have, but Cooks has to be up there for the most times an NFL player has been traded for a meaningful return. At just 26 years old, he still has plenty more time to be sloppily passed around the league.
Despite his inability to stick with a team long term, Cooks has been productive wherever he's gone. In New Orleans, he broke out in his sophomore year and followed that up with a great third season. In his lone year with the Pats, he and Rob Gronkowski formed one of the most devastating receiver duos Tom Brady's ever had. And, in his first season with the Rams, he posted a career high in yards.
2019, though, was by far the worst year of his career. Maybe that was the first sign of a steep decline, or maybe that will be just a blip on a borderline Hall of Fame-level career. Personally, I think 2020 will be a rebound year for Cooks.
In the Patriots' deal with Los Angeles, they received first and sixth-round picks in exchange for Cooks and a fourth. So, in the grand scheme of things, they traded a first, third, and fourth for one year of Cooks, a first, fourth, and sixth.
It should be said that their incoming fourth rounder was never used due to Deflategate punishments, but for the purposes of evaluating this trade, we can assume it yielded an average player for the round—a career backup or low-level starter.
Also, the Pats' incoming first-round pick (23 overall in 2018) landed nine spots higher than the one they sent out (32 overall in 2017). To me, that more than makes up for the extra third they sent out.
You have to look at the overall value Cooks gave the Patriots, and that includes the return they got for trading him. When you look at the net of the two trades, they essentially got a highly productive receiver for a year at no cost.
Somewhat off-topic, but you could make the (admittedly weak) argument Cooks made almost no impact on the Patriots' success. They made the Super Bowl the year before he came, the year he was there, and the year after he was traded. In fact, the only one they lost was with him. To be fair to Cooks, he also made the Super Bowl the year after he was traded, with his Rams losing.
Anyways, the Cooks saga is some of Belichick's finest and most underrated work. Only a GM as savvy and bold as he could have pulled off such resounding victories across the board.
New Orleans Post Trade
While the Patriots killed this trade in a roundabout way, the Saints did so in a more straightforward fashion. For starters, they got outstanding value for Cooks. As we've learned, first and third-round picks are a great return for a star receiver (yes, I'm still mad about the Deandre Hopkins trade).
What they did with those picks is even better. Ramczyk has started 52 of 53 (including playoffs) possible games in his career and earned a first-team All-Pro nod last season. Offensive line play has been a huge reason for the Saints' recent success, and Ramczyk has been instrumental to their excellence.
Hendrickson isn't nearly as good as Ramczyk, but he's a good player nonetheless. As a rotational defensive end, he does his job well. It's no coincidence his best season (4.5 sacks in 2019) coincided with the Saints having one of the better defensive fronts in the league.
Including those guys, the Saints' 2017 draft was historically great. Marcus Lattimore, Marcus Williams, and Alvin Kamara were all picked that year and are some of the team's best players entering 2020.
That prolific 2017 class has fueled the Saints' turnaround. Since that draft, New Orleans has been an annual contender, finishing each of the last three seasons with at least 11 wins. They're arguably one horrible call away from a Super Bowl appearance and possible victory.
Part of that progress could have something to do with the style shift that concurred with the Cooks trade. In 2017, Brees averaged his fewest attempts per game since 2005⁠—a trend that's continued the last two years. Instead of directly replacing Cooks' targets, the Saints opted to become a more balanced team, and to great results.
Record-wise, New Orleans has greatly improved sans Cooks, and you could say the same position-wise. Trading him away opened the door for Thomas to set countless records.
I want to say now that should the Saints ever decide to trade Thomas, they have earned my complete benefit of the doubt. Their track record of trading away and replacing productive receivers is sterling.
The only thing you can point to of the Saints missing Cooks is their struggle to find a robin to Thomas' batman, and even that has never been more than a minor issue. Plain and simply, New Orleans nailed this trade.
Final Verdict: Patriots Win
This deal was a textbook win-win. Both teams got amazing value, but if I have to pick one winner, it's New England. After enjoying a great year from Cooks, they flipped him for essentially the same package they spent to acquire him. Getting something as valuable as a year of Cooks virtually for free makes them the clear winners.
Given that, the fact that the Saints are even in the discussion speaks to how insanely well they did in this trade. Despite doing slightly worse than their counterparts, New Orleans aced this deal without a doubt.
Who do you think won the Cooks trade? What trade should I look at next? Sound off in the comments.